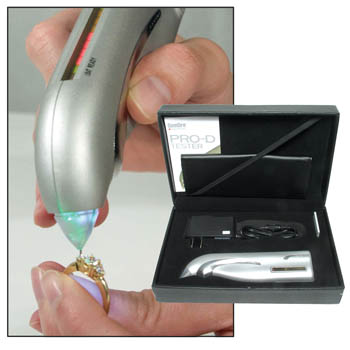 GemOro Pro-Dô II Diamond Tester
The PRO-D can effectively and quickly help you to distinguish a diamond from all commonly used diamond simulants (except Moissanite/silicon carbide).
LED bar graph/beep tone provides audible and visual Diamond indication.
Lifetime limited warranty.
Bright white LED illuminator light.
Fast warm-up time.
Glowing probe tip cone identifies stone.
Powered by 3 long life NiMH rechargeable batteries.
Carrying case, batteries,
AC adaptor/charger, storage box and loose stone holder included.