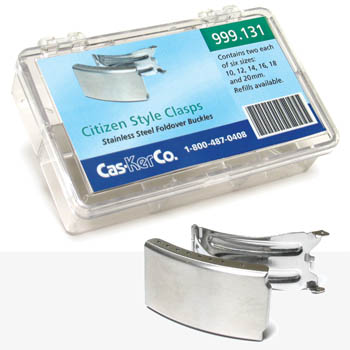 Clasps, Citizen Style Foldover Assortment
12 piece assortment has two each size: 10, 12, 14, 16, 18 and 20mm. Stainless steel.
SKU

999.131
Based on the popular Citizen style clasps, this will easily replace broken or malfunctioning clasps. The citizen style clasp folds down in three sections and will securely hold a band in place. Note: 18mm size has different clasp style and is available ONLY in the assortment - no refills on 18mm. Refills available on all other sizes.
Most orders ship within 24 hours Monday through Friday from Cincinnati Ohio.
Typical delivery time is 1 to 4 days depending on destination.