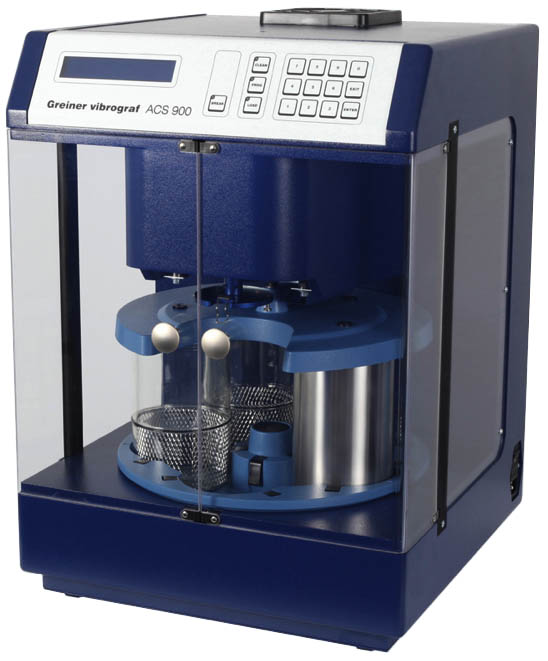 Greiner ACS 900 Watch Cleaning Machine
*** CALL FOR PRICE 1-800-487-0408*** Fully automatic and programmable machine cleans up to 15 watch movements, assembled or disassembled in a mesh basket. Can only be shipped by freight. Special Order
Special Order only. Call for availability.
SKU

590.949
ACS 900 features ultrasound for cleaning in one position, adjustable time and spin for each position and a separate position for heated blow drying. Computer operated cleaning program can be stored in memory. Includes standard accessories - four jars for cleaning and rinsing. A wide variety of baskets are available.
For a limited time, purchase the ACS 900 and get four gallons of cleaning solution free. 
Call for price. 1-800-487-0408.
Greiner Vibrograf ACS 900
Automatic watch cleaning machine ACS 900 complete with ultrasound and standard accessories.
Easy to use. Fully automated. This is the machine used by the leading Swiss watch brands.
Create your own six cleaning programs (with optional password protection) or use three factory set programs. Display indicates position of the plate in the cleaning process, programmed cleaning and spin time per position, speed and agitation settings for each basket/cup, drying time and hot or cold dry, ultrasonic on or off.
Fill cups to mark, with up to .55 liter of cleaning or rinsing solution.
Cleaning positions:
1: cleaning bath, with or without ultrasound
2: Cleaning bath or first rinse
3: rinse
4: cleaning or lubrication bath
5: loading and drying position
Emergency shut-off button immediately stops the mechanical parts of the ACS 900.
Built-in ventilation fan turns off automatically 5 minutes after cleaning process completes. Use machine in a well-ventilated area.
61cm high x 43 cm wide x 43 cm deep
450W
Weight 38kg
Due to size and value, additional shipping charges apply to this item.