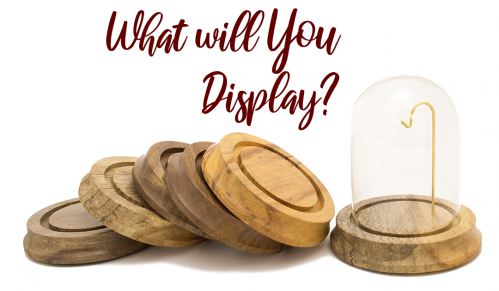 Pocket Watch Dome Sycamore CLOSEOUT
Closeout Sale on Cas-Ker Sycamore and other wood base Watch Domes!
Glass dome 4-1/4" x 3" with solid wood base and brass hook for displaying pocket watch, ornament or any small treasure.
Limited Supply. Various wood grains.
Price listed is suggested retail. Ask about low wholesale pricing for Cas-Ker approved customers!
SKU

500.904.4
Incredible deal on Solid Wood Display Domes for Pocket Watches, Ornaments, or other prized possessions! We have a limited supply available of gorgeous assorted wood display domes, available at closeout prices!
Limited Supply. No Returns. One Size. Assorted Woods - we choose for you.
Wood base is 4-1/8" x 3/4"; Glass Dome is 3" x 4".
Price listed is suggested retail. Super Low Wholesale Pricing available to approved retailers. Call 1-800-487-0408 for your price. Price will be adjusted at time of billing for our regular customers.
Glass dome is 3" x 4". Wood base is 4-1/8" x 3/4". Wood type varies; most are Sycamore with unique wood grain. We'll choose for you - wood look varies.
Cas-Ker CLOSEOUT items typically ship the day your order is received, while items are still in stock.
Supplies are limited. You will be notified if your items is no longer available.
Please allow 1 to 4 business days for delivery of in-stock items.