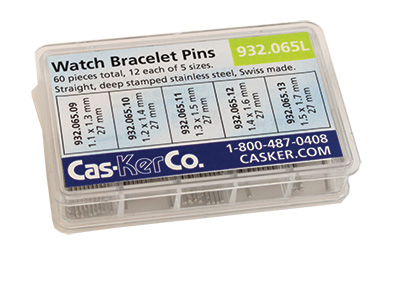 Watch Band Pins Large Friction Fit Assortment
60 Stamped Straight Stainless Steel Bracelet Pins. Swiss made friction type pins are stamped to be thicker on one end. All are 27mm long. 12 each of five large sizes, each with strong (deep) stamp.
SKU

932.065L
Watch bracelet pins in large sizes. Assortment of 60 pieces total, 12 each of five sizes. Straight, deep stamped stainless steel. Swiss made. Refills available. Cas-Ker assortments come in a hinged clear box with labeled sizes.
Sizes in Assortment:
1.1 x 1.3, 27mm
1.2 x 1.4, 27mm
1.3 x 1.5, 27mm
1.4 x 1.6, 27mm
1.5 x 1.7, 27mm
Most orders ship the same day your order is received, Monday through Friday, from Cincinnati, Ohio USA.