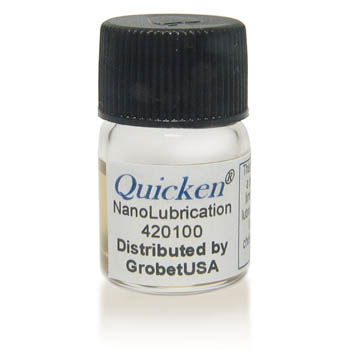 Quicken® NanoLube for Clocks
Precision high grade "Mechanical Lubricant™" provides extended protection and breakthrough lubrication. Standard clockmaker's viscosity to use in place of your current chemical lubricant.
SKU

420.0100
NanoLube contains NanoDiamonds which act as ball bearings, eliminating friction and wear. Over time, standard chemical lubricants break down, cake-up and stop lubricating.
NanoDiamonds are 0.1 to 4 nanometer synthetic diamond ball bearings that never wear out.
NanoDiamonds adhere to the applied surfaces even after the carrier oil has evaporated, reducing friction and preventing wear.
On average, it takes 80,000 NanoLube particles to span the width of a human hair - and all particles are spherical, synthetic diamond.
2 ml.
This item is typically IN STOCK and ready to ship.
Most orders are shipped from our facility with 24 hours, Monday through Friday.