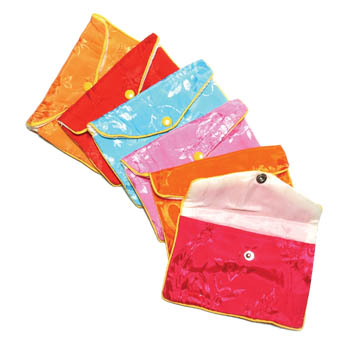 Silk Jewelry Pouches 12-pack
Now $4.50 dozen (regularly $5.00 doz) Genuine silk Chinese pouches in assorted brilliant colors with snap closure. 5-1/2" x 3-1/2". While they last!
$

4.50
$5.00
You Save $0.50
in stock
SKU

670.906
Pack of one dozen Snap-close Silk Jewelry Pouches, 5-1/2" x 3-1/2".
$1.50 each sold individually.
Regular price $5.00 per dozen ($0.42 each)
SALE price $4.50 per dozen ($0.38 each)
This item is IN STOCK while supplies last, and ready to ship.
Most orders are shipped from our facility with 24 hours, Monday through Friday.