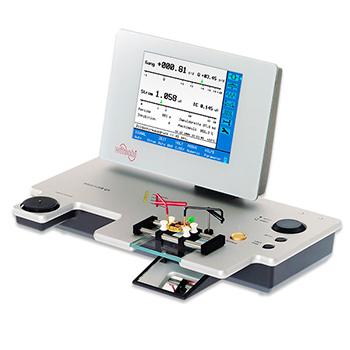 Witschi Analyzer Q1
Witschi Analyzer Q1, a leading Swiss product for professional watch testing and analysis.
SKU

590.760
The Analyzer Q1 provides excellent measurement and testing facilities for the specialist testing and measurement of quartz watches. The Analyzer A1 is a testing device for efficient use in a repair service as well as for analyses during watch production, in watchmaking laboratories and in sales situations.
The measurement sequences of the Analyzer Q1 are extensively automated and the ergonomic rotary and press button allows you to make parameter settings quickly and easily. The chopping-level of motor pulses of watches or watch movements with a chopped pulse is determined by the Analyzer Q1 even when the watch case is closed. A triple-sensor picks up acoustic, capacitive and magnetic signals and long-term analyses are also possible. The results are clearly laid out on the large LCD display.
Art. nr.: 26.64PK
Usage principles
Display
LCD graphic display
monochrome
320 x 240 pixel
illuminated
Languages: German / French / English
Operating system: proprietary
Size (W x H x D): 290 x 170 x 180 mm
Weight: 2.8 kg
Result printing: label printer
Sensor technology / Measurement principle
acoustic
capacitive
inductive
Interfaces: RS232
Single Channel
Resolution Rate: 0.1s/d
Quartz timebase
Type OCXO
Stability +/-0.004 s/d
Measurement precision Rate +/- 0.1 s/d
Measurement range
Rate +/-300 s/d
Vibration 12'600 to 36'000 A/h
Standard Measurement modes
Measurement conditions: Measure position count: 1
Numeric Result display / Display modes
Quartz timebase
Type OCXO
Stability +/-0.004 s/d
Measurement conditions
Measure time: 2 s to 960 s
Power supply with variable voltage: 0 to 3.5 V
Watch type
Analog yes
LCD yes
Tuning fork no
Measurement modes
Magnetic signal sensor yes
Acoustic signal sensor yes
Capacitive signal sensor yes
Rate measurement yes
Consumption measurement yes
Motor impulse chop ratio measurement yes
Isolation and motor coil test yes
Watch battery test yes
Result display / Display modes
Motor impulse with LED yes
Numeric yes
Graph yes