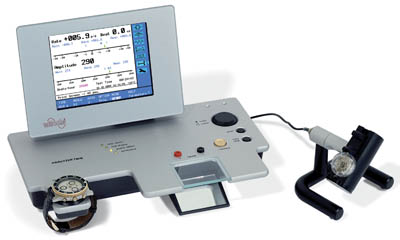 Witschi Analyzer Twin
Analyzer Twin for Quartz and Mechanicals.
SKU

590.879
Witschi's Combined Measurement and Test Instrument for Quartz and Mechanical Watches
With the Analyzer Twin you can measure and test both mechanical and quartz watches. This combined measurement and test device offers the functions of measuring devices for both quartz and mechanical watches. The Analyzer Twin is the perfect combination device for repair services, laboratories and watch sales outlets.
This combined measurement and test instrument associates all functions of test equipments for quartz watches and test equipments for mechanical watches. It is the ideal test instrument for the repair service, the lab and watch sales outlets. Basic functions and measurement sequences, largely automated, provide a fast and efficient operation. Additional measurement modes provide a way to measure watches with special escapements. The instrument, based on the "all-in-one" concept, requires only a very small work area.
The basic functions and measurement sequences of the Analyzer Twin are extensively automated and guarantee rapid, efficient use when measuring or testing both mechanical and quartz watches. Additional setting options of the Analyzer Twin combination unit facilitate the measurement of special watches. Because the Analyzer Twin can test and measure both mechanical and quartz watches, you can save space on your work bench. The high-resolution color screen makes the Analyzer Twin an archetypal, top-quality device - in the salesroom as well.
Combined measurement and test instrument offers all the functions of both Watch Expert III and the Witschi's Quartz Analyzer Q1. Features mirrored test platform, hi-res color display and rotating microphone for mechanical watches. Swiss made. Download data sheets for all Witschi instruments here: www.witschi.com/e/produkte/
This item is typically IN STOCK and ready to ship.
Most orders are shipped from our facility with 24 hours, Monday through Friday.