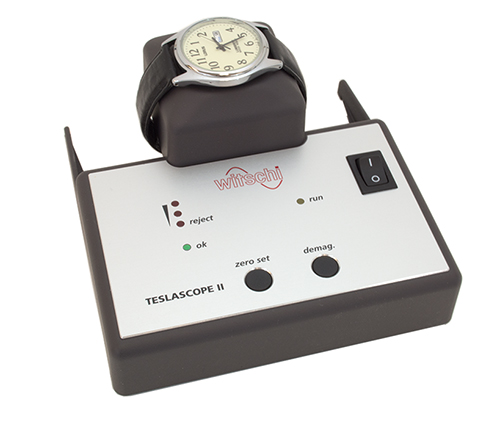 Witschi Teslascope II Magnetic Detector & Demagnetizer
The Teslascope II displays the strength of any magnetism present in a watch or watch movement.
$

1,128.00
$1,128.00
You Save $0.00
in stock
SKU

590.711
The Teslascope offers user-friendly operation with easily interpreted results.
The unit performs a successful demagnetization and detection of the magnetic state of mechanical watches Ė in a single step.
Includes a convenient, freestanding support, allowing watches with or without bracelet, movements and steel watch parts of small dimensions to be easily tested.
The evaluation of the measurements takes place by red and green LEDís.
The magnetisation degree is represented strengthen-dependently over several LEDís.
Swiss made.
Download data sheets for all Witschi instruments here: www.witschi.com/e/produkte/
†
9V~/2.5A
Witschi Electronic Ltd. offers a two year warranty on their appliances.