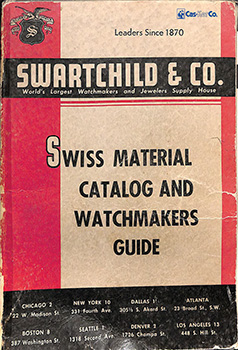 1956 Swartchild & Co. catalog
Swartchild & Co. Swiss Material Catalog and Watchmakers Guide from 1956. Fascinating vintage catalog from 1956, available as a FREE download from the Cas-Ker Co.
SKU

900.201.56
Download contains 41 catalog pages in pdf format.
How to Use
Please be patient - this is a large file and may take a while to download.
If you don't already have Adobe Acrobat Reader to view this file, you can download it FREE here: https://get.adobe.com/reader/
N/A