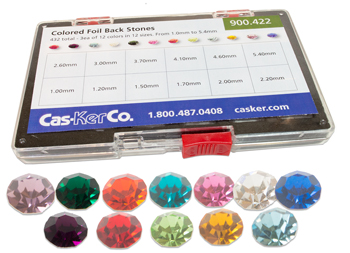 Colored Foil Back Stones Assortment
Colored Foil Back Stones Assortment contains three each of twelve different colors in twelve different sizes. 432 pieces total. Keystone pricing
SKU

900.422
Sizes 1.0mm to 5.40mm
Refills available. Call for details.
White Crystal Foil Backs also available. See SKU 900.417.
How to Use
Professional jewelers and watchmakers use our Foil Back Stones for quality costume jewelry making and repair. Replace a missing or damaged white crystal stone on a watch face, earrings, necklace, bracelet, tiara, or other jeweled item. Our handy assortment contains a variety of sizes and colors, perfect to keep on your work bench for all kinds of repairs and designs.
SKU - - - Round Diameter Size
900.422.01.xx 1.0mm
900.422.02.xx 1.2mm
900.422.03.xx 1.5mm
900.422.04.xx 1.7mm
900.422.05.xx 2.0mm
900.422.06.xx 2.2mm
900.422.07.xx 2.6mm
900.422.08.xx 3.0mm
900.422.09.xx 3.7mm
900.422.10.xx 4.1mm
900.422.11.xx 4.6mm
900.422.12.xx 5.4mm
SKU Suffix - - - Color
0.01 January / Garnett
0.02 February / Amethyst
0.03 March / Aqua
0.04 April / Clear
0.05 May / Emerald
0.06 June / Lt. Purple
0.07 July / Ruby
0.08 August / Peridot
0.09 September / Sapphire
0.10 October / Pink
0.11 November / Topaz
0.12 December / Blue Green
Most orders ship the day your order is received. For small parts orders under $50, select First Class Mail at checkout for the most economical shipping option. Typical delivery time is 1 to 4 days, depending on destination.