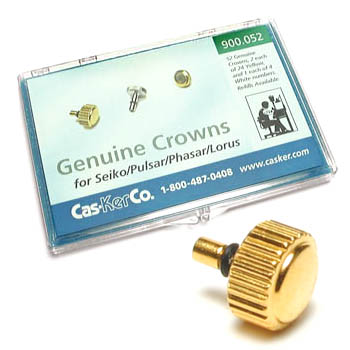 Watch Crown Assortment, Genuine Seiko
Genuine Seiko Watch Crown Assortment. Contains two each of 24 yellow crowns.
SKU

900.052
Includes these numbers:
30MA2NA1 Yellow
30M98NA1 Yellow
32M29NA1 Yellow
32M63NN1 Yellow
32N23NA1 Yellow
32N23NS1 White
35D03NA1 Yellow
35E09NN1 Yellow
35ME9NA1 Yellow
35MP0NF1 Yellow
35MR8NF1 Yellow
35MS4NF1 Yellow
35MX2NF1  Yellow
35MX2NS1 White
35MX7NN1 Yellow
35M68NA1 Yellow
35M82NA1 Yellow
35M82NS1 White
35R34NA1 Yellow
40MH1NA1 Yellow
45M74NA1 Yellow
6M30B9NNG1 Yellow
8M30A0NNG1 Yellow
8M35A0NNG2 Yellow
8M35A0SNW1 White
8M35A7NNG0 Yellow
8M35B4NNG1 Yellow
8M40A0NNG1 Yellow
Order refills by Seiko numbers, prices vary.
Most orders ship within 24 hours Monday through Friday from Cincinnati Ohio.
Typical delivery time is 1 to 4 days depending on destination.