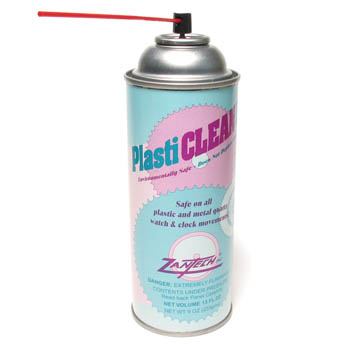 Plasticlean Quartz Cleaner
Cleans plastic and metal quartz movements with one solution, easy -to-use.
SKU

230.233
Clean Quartz watch movements in seconds with Zantech's PlastiClean. Easy to use, efficient and environmentally safe. PlastiClean's powerful microscopic cleaning action penetrates tiny crevices in movements, lifting out dry oil and residue. Tested to be completely safe for all plastic and metal quartz watch and clock movements. Remove dial and battery from watch before using. 13 oz. aerosol.
Ships via UPS Ground only. Cannot be shipped by air or outside of the continental U.S.
See Shipping Info link at bottom of page for more details.