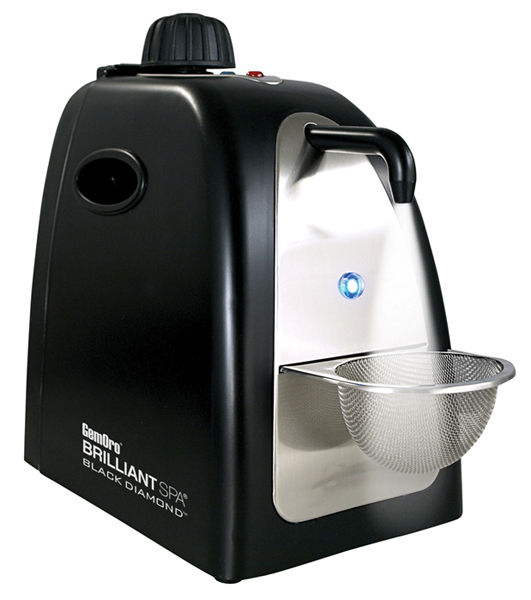 Brilliant SpaŽ Black Diamond Personal Steam Cleaner
NEW Lower Sale Price!
New larger capacity steamer with even greater steam pressure! Cleans more & cleans faster – The best just got better!
SKU

230.810
The ultimate personal jewelry steam cleaner with its increased steam pressure will thoroughly amaze you by effortlessly blasting away filth from the dirtiest of jewelry in just seconds, even in the tiniest of nooks and crannies of intricate pieces. With its larger tank and steam capacity you may clean your entire collection of jewels and more with ease!
Professionally cleans diamonds, gold, silver and platinum jewelry.
Perfect size approximate 1-pint tank capacity steam cleaner.
Powerful steam cleaner safely generates a robust 50PSI of pressurized steam using regular tap water safely blasts away dirt, grime, body oil, makeup and more.
Advanced LED indicator lights show when unit is heating and when it is ready to steam.
Bright blue LED light illuminates jewelry while being steam cleaned.
Features an unrestricted cleaning zone, removable cleaning / drying basket and convenient on / off power switch.
Easy-lift handles for moving.
Cabinet made of durable, long-life ABS, with contemporary stainless steel accent panels.
Includes jewelry holding tweezers, basket, steam residue mat and water funnel with measuring fill cup.
Complements sister product: GemOro Sparkle Spa ProŽ Personal Ultrasonic Jewelry Cleaner.
Designed in the USA with European influence.
Built for safety – ETL Listed.
2 Year limited replacement warranty.
List Price $169.95

UPS GROUND RECOMMENDED - 6LBS. - CANNOT SHIP VIA USPS - INQUIRE FOR AIR SHIPPING CHARGES