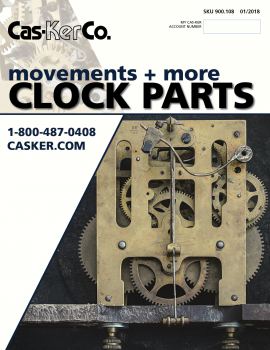 Cas-Ker Clocks Catalog
Cas-Ker Clock Movements and Supplies Catalog includes quartz clock movements, mechanical clock movements, clock hands, and more.
SKU

900.108
Quartz and mechanical clock movements, hands, posts, pendulums, keys, springs, and more.
If you prefer, you can download a digital pdf version of our catalog. Click here to download.
Cas-Ker's Clock Movements Catalog is available in print or as a digital download file.
How to Use
Add our Clocks Catalog to your cart to receive a black-and-white print catalog with your order, or click the link above to download a screen-optimized digital version.
N/A