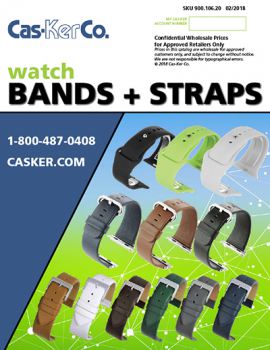 Cas-Ker Watch Straps & Bands Catalog
Cas-Ker's Straps & Bands Catalog features a variety of popular watch straps and bands for the professional watchmaker. The pdf catalog is available to our established business clients as a FREE download from casker.com. Just add to your shopping cart and you'll receive a download link at checkout.
SKU

900.106.20
Keystone price listed is suggested retail and subject to change without notice. Available wholesale to approved retailers only.
How to Use
Prices in Cas-Ker's Watch Bands + Straps catalog are wholesale for approved retailers only. These prices are not available to the public. This catalog is exclusively available to Cas-Ker customers.
N/A