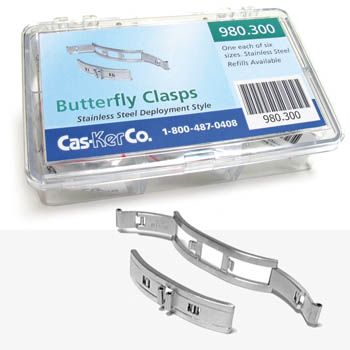 Clasps, Butterfly Assortment
Contains Seven different sizes Stainless Steel clasps ladies' and men's.
SKU

980.300
Sizes are MM Length x Width x Width at Band Connection. Assortment includes one each:
980.328 Ladies 35.4L x 7.7W x  3.3C
980.325L Ladies 35.4L x  8.7W x 4.4 C
980.325M Mens 40.4L x  10.0W x  6.0C
980.324 Mens 41.0L x  11.0W x  8.0C
980.323 Ladies 34.2L x  8.4W x  2.7C
980.326L Ladies 37.8L x  10.0W x  3.4C
980.326M Mens 41.0L x  10.0W x  3.4C
Most orders ship within 24 hours Monday through Friday from Cincinnati Ohio.
Typical delivery time is 1 to 4 days depending on destination.