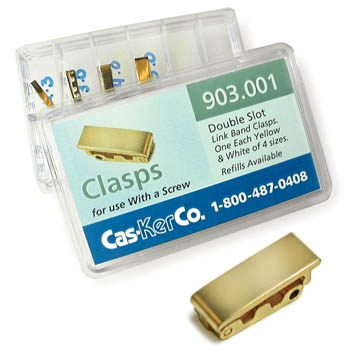 Clasps, Seiko Style Double Slot Assortment
Seiko style link band center foldover clasps for use with a screw. Assortment includes one each yellow and white 2.3, 3.0, 4.0 and 5.0mm, 8 total. Additional sizes available.

SKU

903.001
Seiko style watch parts - Seiko style double-slot clasps for Seiko style watch bands. Watchmakers love this handy assortment containing parts you need to repair the watches that come across your bench most often.
Most orders leave our Cincinnati, Ohio warehouse within 1 to 24 hours of your order. Almost all orders are shipped same day.