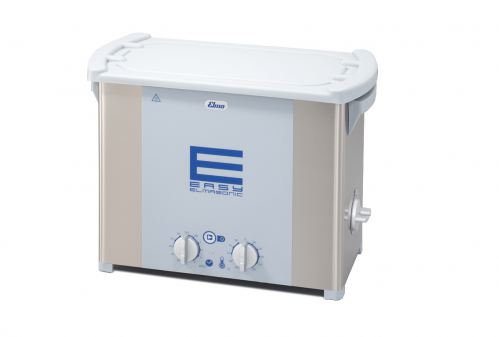 Elma 6 Qt. Ultrasonic Cleaner
Elma Ultrasonic Cleaner. 6 Quart Capacity. Heated, with pulse function for extra power.
SKU

231.674
Elmasonic Easy - the EASY way to clean!
More power with pulse function for removing mineral soiling and polishing pastes
Visual warning when bath temperature reaches user-set limit - protects sensitive parts, prevents coagulation of proteins
Easy handling with safety shutdown feature.
100% Ultrasonic Cleaning Power at 37 kHz. Pulse increases power up to 20%.
Integrated Sweep function ensures an even sound field distribution, and therefore an even removal of soiling. Removes fats, oils, polishes, pastes, pigments and more.
Simple, user-friendly operation. Stainless steel casing. Drain. A favorite in watchmaking, jewelry cleaning, and dental laboratories.
Dimensions: 13-7/16" x 7-3/4" x 10-1/2". Weight: 5.1 kg.
This item is typically IN STOCK and ready to ship.
Most orders are shipped from our facility within 24 hours, Monday through Friday.
See Shipping Info link at bottom of page for more details.