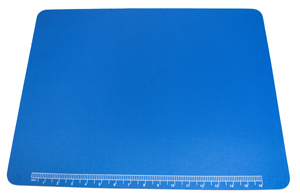 Padded Work Mat
This blue padded work mat features a non-slip backing and ruler markings on the bottom.
SKU

380.350
This heavy-duty padded work mat has a non-slip backing for a comfortable and organized work surface.
An imprinted ruler at the bottom makes measuring let's you make quick and easy measurements while working on projects. The 20″ x 15″ work mat accommodate larger tools and accessories while the bright blue backing makes it easy to keep small parts in sight. Perfect for jewelry makers, especially those working with wire.
Non-skid backing to ensure it stays on your bench
16″ inch ruler at the bottom for on-the-fly measuring
Padded for extra comfort when working
20″ x 15″ inch surface (51 x 38 cm)
This item is typically in stock and ready to ship. Orders received before 3PM Monday through Friday ship the same day.