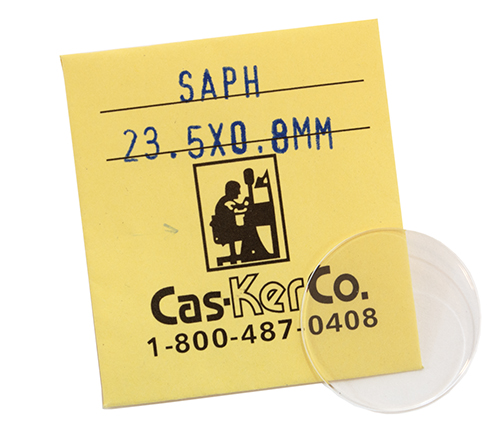 Sapphire Watch Crystals SAPH 0.80 Flat 21.6-23.9
Cas-Ker Sapphire Glass Watch Crystals, sold individually. Sizes 21.6mm through 23.9mm. Price each.
SKU

SAPH.21.6
All Cas-Ker crystals are in individual envelopes marked with size and SKU.
See also SKUs SAPH.15.0, SAPH.19.0, and SAPH.24.0 for other sizes.
Sapphire watch crystals also available in CKES 1.00mm Flat, SAPHM 1.50 Flat, SSAPH 0.80 Flat, DSAPHM 0.90 Domed, and TSAPH Flat in various thicknesses.
SAPH.21.6
SAPH.21.7
SAPH.21.8
SAPH.21.9
SAPH.22.0
SAPH.22.1
SAPH.22.2
SAPH.22.3
SAPH.22.4
SAPH.22.5
SAPH.22.6
SAPH.22.7
SAPH.22.8
SAPH.22.9
SAPH.23.0
SAPH.23.1
SAPH.23.2
SAPH.23.3
SAPH.23.4
SAPH.23.5
SAPH.23.6
SAPH.23.7
SAPH.23.8
SAPH.23.9
This item is typically IN STOCK and ready to ship.
Most orders are shipped from our facility with 24 hours, Monday through Friday.