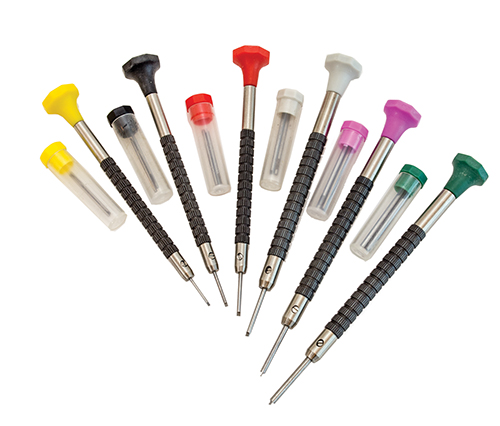 Screwdriver Set of 6 Non-Sliding, Precise Fitting Blades
Watchmaker's Non-Sliding Screwdriver Set of 6 Screwdrivers. Made in Korea by Timelab. 0.80mm to 2.00mm precise fitting replaceable blades. Includes 2 spare blades per size. Comes in a hard plastic case.
SKU

520.007
High end watch screwdriver set of six, non-sliding straight end tip. Spare blades included. Stainless steel handle and blade. Easy to rotate with plastic head. Specially designed non-slip knurling to deliver power. Iron plated knurling for an elegant appearance. Timelab Korea No. 015-A.
Screwdriver sizes 0.8, 1.0, 1.2, 1.4, 1.6, 2.0mm.
Box measures approximately 15.0cm L x 14.0cm W x 2.0cm D.
Weight 182g
Typically IN STOCK and ready to ship. Most orders leave our Cincinnati, OH warehouse within 4 to 24 hours.