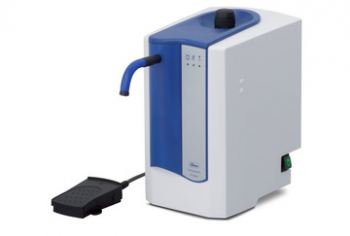 The ElmaSteam 4.5
The powerful Elma steamer uses a combination of pressure, speed, and temperature to provide jet steam cleaning - safely and effectively.
SKU

241.990
The higher water content and constant steam availability are perfect for pre-cleaning and final cleaning of jewelry and watches.
Quality, reliability, and safety technology in every detail
Two chamber design and aluminum alloy casting extends tank life
Easy operation
Compact design
Fixed nozzle
3 year warranty
115-120V, 50/60Hz, 1650 watts
4.0 litres tank volume
4.5 Bar operating pressure, 65 PSI
16.5" x 12.5" x 10"
Please call for shipping information. See the "Shipping Info" link at the bottom of the page for details.