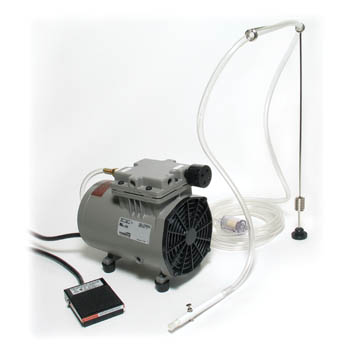 Vacuum Cleaning System for Watches
The Zantech vacuum system combines a quiet and compact compressor with precisely tuned vacuum.
SKU

590.801
Button operated stylus and handy foot switch give you a safe and efficient way to remove dust and debris from delicate electronic circuit boards and components. Perfect for black dials. Kit includes Quiet Vacuum Pump, Foot Switch, Finger-tip Control Stylus with soft white vacuum brush, and Flexible Hose with in-line filter and hanger.
UPS GROUND RECOMMENDED - 15 LBS. - HIGH VALUE, ADDITIONAL CHARGES APPLY - CANNOT SHIP VIA USPS