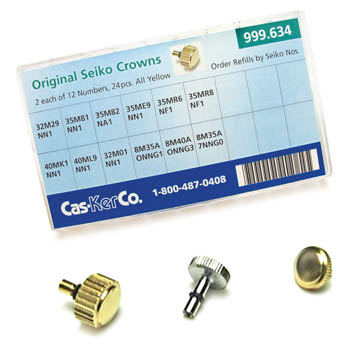 Watch Crown Assortment, Original Seiko Yellow
Two each of 12 original Seiko Crowns, all Yellow: 32M29NN1, 35M81NN1, 35M82NA1, 35ME9NN1, 35MR6NF1, 35MR8NF1, 40MK1NN1, 40ML9NN1, 32M01NN1, 8M35AONNG1, 8M40AONNG3 and 8M35A7NNG0.
SKU

999.634
Original Seiko Watch Crowns. All yellow. 24-piece Seiko watch parts assortment contain 2 each of 12 styles.
Most orders ship the same day your order is received, Monday through Friday, from Cincinnati, Ohio USA.