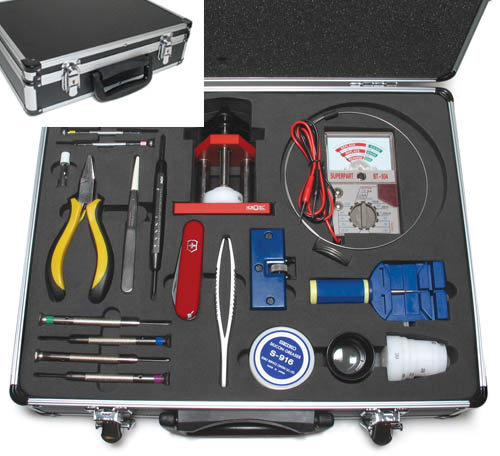 Watchmaker's Tool Kit in Case
This kit has all the tools you need to perform basic watch repairs anywhere you go.
$

304.50
$304.50
You Save $0.00
in stock
SKU

590.610
Ideal for shows, classes and more. Tools stay safe and nealty organized in the specially fitted sturdy case.
Kit assembled in Switzerland and includes:
Horotec Case Press with Nylon Dies.
Bracelet Pin Remover.
Pin Pusher/Spring Bar Tool.
Victorinox Folding Pocket Knife/Case Opener.
Pocket Size Screwback Case Wrench.
Precetec Flat Nose Pliers.
Four each Phillips and Straight Screwdrivers with Spare Blades.
Battery Tester.
Plastic Battery Tweezers.
#1 Anti-Magnetic Tweezers.
Watchmaker's Loupe with Wire Loupe Holder.
Seiko Silicon Grease.
Polishing Cloth.
Fitted Case with Lock and Key.
Most orders ship the same day your order is received, Monday through Friday, from Cincinnati, Ohio USA.