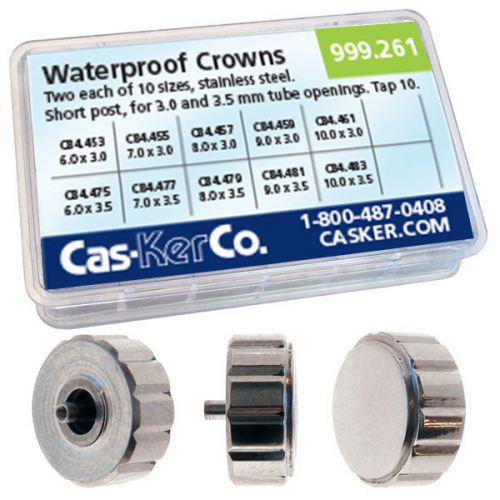 Waterproof Crowns Assortment, Short Post 3.0-3.5
20-piece watch crown assortment. Two each of ten sizes. Short post, tap 10, for 3.0 and 3.5 mm diameter tube openings.
SKU

999.261
Watch Crown Assortment. 20 pieces total, two each of ten sizes, 6 to 10mm diameter crowns with 3.0 or 3.5mm diameter tubes. All tap 10. White stainless steel. Refills available. Additional sizes available individually only - see C84.454.
Number Diam Tube
C84.453 6.0 3.0
C84.475 6.0 3.5
C84.455 7.0 3.0
C84.477 7.0 3.5
C84.457 8.0 3.0
C84.479 8.0 3.5
C84.459 9.0 3.0
C84.481 9.0 3.5
C84.461 10.0 3.0
C84.483 10.0 3.5