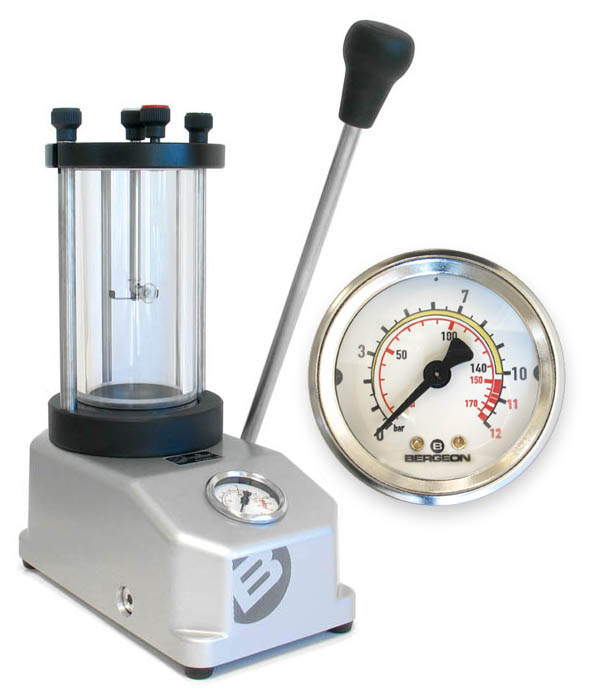 Waterproof Tester Bergeon 10 Bar 5555/10
The newest Wet Tester from Bergeon tests the water resistance of watch cases up to 10 bar (ATM).
SKU

640.5555
Air pressure system tests from 0 to 10 ATM.
Removable plexiglas cylinder for draining. 70mm diameter cylinder.
Dimensions: 390X153X245mm including handle.
Very stable cast aluminum base.
Capacity: two watches.
Connector for compressor or pump (requires optional connector kit 5555/10-R, special order).
Made in Switzerland.
Additional shipping charges apply.
How to Use
Find the exact location of the leak on the watch case.
Fill the cylinder with regular or distilled water.
Hang the watch on the plunger above the water line and seal the jar.
Use the pump handle to raise the pressure in the jar to the preferred ATM.
With the case under pressure before entering the water, look for air bubbles escaping from the watch, indicating a leak. Remove the watch from the water if a leak is detected.


Cylinder is easy to remove for draining.
Dimensions: 390 x 245 x 153 mm from base to tip of handle. Cylinder diameter: 70 mm.
Additional shipping charges apply. You will be contacted by email with a shipping quote. Call 1-800-487-0408 for shipping questions.