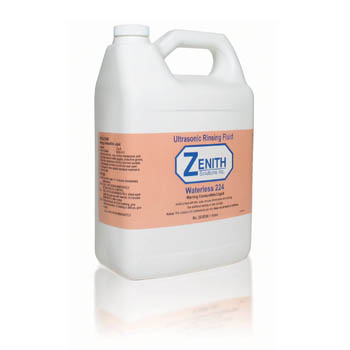 Zenith 224 Waterless Watch Rinsing Fluid
Environmentally friendly Zenith solution dissolves grease and oil after Formula 67 Solution has removed them from the surface.
Ships via UPS Ground only.
SKU

230.0224
Zenith 244 Ultrasonic Rinsing Solution Waterless 224 dries clean without leaving any film or tackiness on metal parts. Use in ultrasonic or mechanical cleaning machines. One Gallon. Additional $5.00 per gallon shipping charges apply. Cannot be shipped with other merchandise, by air or outside of the continental U.S.
LIQUID-WATERLESS, NON-AMMONIATED, SAFETY DATA SHEET AVAILABLE
UPS GROUND ONLY - 8 LBS. - LIQUID - ADDITONAL SHIPPING CHARGES APPLY