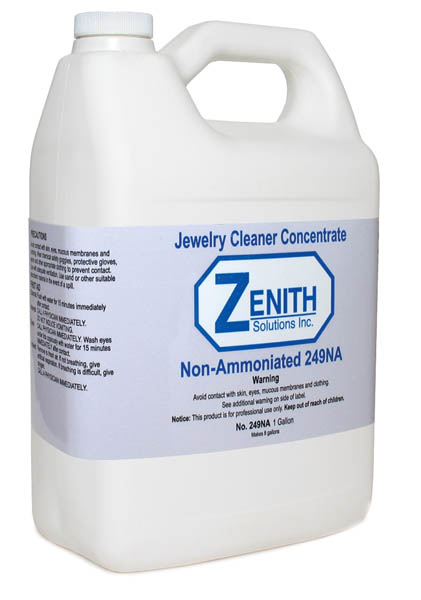 Zenith 249NA Jewelry Cleaner Concentrate
Non-Ammoniated Jewelry Cleaner Concentrate delivers excellent cleaning power with no harmful fumes.
Ships via UPS Ground only.
SKU

230.021
Ideal for cleaning jewelry with semi-precious and precious stones. Rated environmentally friendly and safe to use because it does not emit any harmful fumes. Can be used in ultrasonic, mechanical and simple manual cleaning. Rinse with water and dry. One Gallon makes 8 gallons solution. Additional $5.00 per gallon shipping charges apply. Cannot be shipped with other merchandise, by air or outside of the continental U.S.
LIQUID-NON-AMMONIATED, SAETY DATA SHEET AVAILABLE
UPS GROUND ONLY - 8 LBS. - LIQUID - ADDITONAL SHIPPING CHARGES APPLY