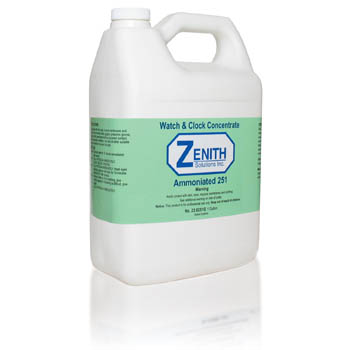 Zenith 251 Watch Cleaning Concentrate
Gentle, environmentally friendly solution highly recommended for cleaning antique watches and clocks.
Ships via UPS Ground only.
SKU

230.0251G
This economical concentrated water base ammoniated cleaner is formulated for ultrasonic machines, mechanical and manual cleaning. Ideal for antique pocket watches and clocks that have protective coatings on their parts. Rinse with water and immediately dry in the heating chamber or blow dry (leaves a slight film if air dried). One gallon makes 8 gallons of cleaning solution. Additional $5.00 per gallon shipping charges apply. Cannot be shipped with other merchandise, by air or outside of the continental U.S.
LIQUID-AMMONIATED,SAFETY DATA SHEET AVAILABLE
UPS GROUND ONLY - 8 LBS. - LIQUID - ADDITONAL SHIPPING CHARGES APPLY