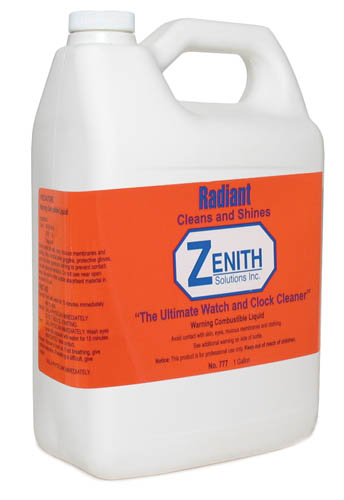 Zenith 777 Radiant Watch & Clock Cleaner
Zenith Radiant No. 777 "The ultimate watch and clock cleaner".
Ships via UPS Ground only.
SKU

230.022
Zenith Formula #777 Radiant is rated as a high performance cleaner that cleans and shines delicate watch and clock parts at the same time. Radiant is formulated to clean movements that contain alloys of beryllium, nickel, copper and zinc. Compatible with all Zenith rinsing solutions. Low odor. Use in ultrasonic or mechanical cleaning machines. Cannot be shipped with other merchandise, by air or outside of the continental U.S.
LIQUID-SAFETY DATA SHEET AVAILABLE
UPS GROUND ONLY - 8 LBS. - LIQUID - ADDITONAL SHIPPING CHARGES APPLY