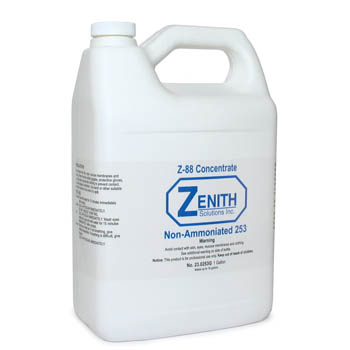 Zenith Z-88 Non-Ammoniated Concentrate
Zenith's chemists developed this superior, very effective, all purpose concentrated non-ammoniated cleaner for the horological and jewelry industries.
Ships via UPS Ground only.
SKU

230.0253G
Z-88 is a must for the professional polisher because it removes residue and lapping compounds from metal parts with ease. Ideal for cleaning metal watch bracelets. Everyone in the jewelry and watch repair business should have this product. One gallon concentrate makes 16 gallons of cleaning solution. This may vary depending upon the application which will determine the required strength.
LIQUID-NON-AMMONIATED, SAFETY DATA SHEET AVAILABLE
UPS GROUND ONLY - 8 LBS. - LIQUID - ADDITONAL SHIPPING CHARGES APPLY