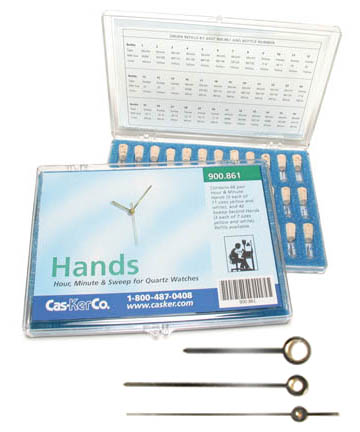 Watch Hands for Quartz Assortment
Assortment contains 3 each 11 sizes yellow & white hour & minute hands, and 3 each 7 sizes yellow and white sweep second hands.
SKU

900.861
Replacement watch hands in a handy assortment. Hour, minute, and sweep second thin hands in yellow and white. A variety of sizes.
Assortment contains the following:
White Yellow Hole Type Length
Number Number Size
900.861.34 900.861.31 40/80 Minute/Hour
900.861.16 900.861.01 45/90 Minute/Hour
900.861.35 900.861.32 50/100 Minute/Hour
900.861.17 900.861.02 55/100 Minute/Hour
900.861.18 900.861.03 60/110 Minute/Hour
900.861.36 900.861.33 65/110 Minute/Hour
900.861.19 900.861.04 65/120 Minute/Hour
900.861.22 900.861.07 70/120 Minute/Hour
900.861.20 900.861.05 80/130 Minute/Hour
900.861.21 900.861.06 80/140 Minute/Hour
900.861.23 900.861.08 90/150 Minute/Hour
900.861.24 900.861.09 0.17 Sweep Second 8
900.861.30 900.861.15 0.17 Sweep Second 13
900.861.25 900.861.10 0.18 Sweep Second 11
900.861.26 900.861.11 0.19 Sweep Second 10
900.861.27 900.861.12 0.20 Sweep Second 13
900.861.28 900.861.13 0.22 Sweep Second 15
900.861.29 900.861.14 0.25 Sweep Second 15
Refills available. See SKU 900.861.01