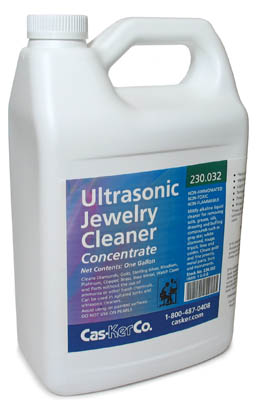 Ultrasonic Cleaner CK-Concentrate 1 Gallon
Non-Ammoniated Ultrasonic Jewelry Cleaning Concentrate. One Gallon.
Ships via UPS Ground only.
SKU

230.032
Cas-Ker brand concentrate is an all purpose jewelry cleaner for safe cleaning of gold, base metal and diamonds. Can be used with ultrasonic cleaner and boil-out, or as dip, spray or soak. Rinses with water. Mix as little as 1 part concentrate to 15 parts water for light cleaning. Non-Toxic. Non-Flammable, Non-Ammoniated and Bio-degradable. USDA Approved.
LIQUID CLEANING CONCENTRATE
UPS GROUND ONLY - 8 LBS.- LIQUID - ADDITIONAL SHIPPING CHARGES APPLY