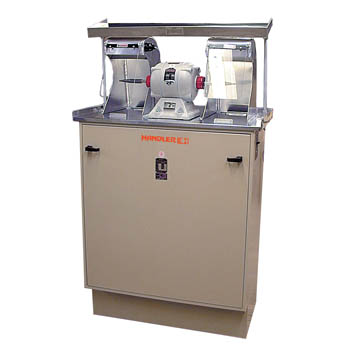 Handler Standard Polishing Unit & Dust Collector 60C
Handler Standard 500 CFM Polisher and Dust Collector. Made of heavy gauge sheet metal with two high pumice hoods on each side of the motor.
SKU

470.090
This superior unit includes two polishing hoods mounted on either side of the Red Wing polishing motor. Operate both sides simultaneously, wet or dry!
1/4 H.P. Suction motor.
1/4 H.P., 2 speed, 3450/1735 RPM, #26 Polishing Motor.
Left and right 1/2" spindles supplied.
Two Suction 4" x 3-1/2" Bench Top Inlets. 500 C.F.M.
Two 12" x 25" x 2" replaceable Fibre Glass Filters.
Reusable filters for shake-out or vacuuming.
Two- 14"H x 13"D x 7 1/2" W Aluminum shielded hoods with lights and insert pans, overhead shelf supplied.
Air intake is channeled through two supplied fiberglass filters.
Not for grooving models.
Financing available through ACG Equipment Finance.
Special Order Only.
Ships LTL Freight direct from factory.
Additional shipping charges apply. Please inquire for an accurate shipping quote.
Minimum 3 weeks delivery.
Dimenstion: 56" H x18" D x 32" W. Shipping Weight 185 lbs.
Additional shipping charges apply. Call 1-800-487-0408 for shipping quote.
Cannot be shipped by air due to size limitation.