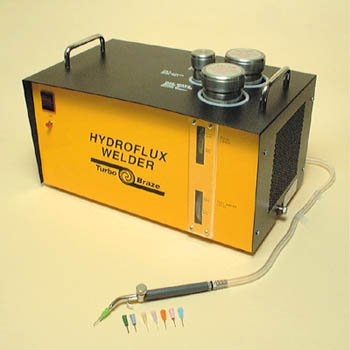 Hydroflux Water Torch *Ground Only*
The ultimate water torch system. If you need a high temperature, safe, clean, precise flame, this is the torch for you. The Hydroflux Welder unit is compact and self-contained for high performance oxide-free soldering. Ground only
SKU

140.795
HYDROFLUX Welder - The Ultimate Water Torch System
This unit is light, compact and self-contained for high performance, low maintenance, economical, trouble-free, oxide-free soldering.
Exclusive features:
Self-contained stainless steel gas dryer and filter, fluxing canister and drain for electrolyte.
Light weight torch handle for operator comfort.
Can be worked with two torches for "40" gauge total needle combination.
Flux compound level gauge. Distilled water gauge.
Stainless steel check valve to prevent blow-back.
Uses 30 - 18 gauge disposable needles.
Finest pin point flame for repairing 1mm hollow rope chain up to a large flame for gents' rings.
Concentrated electrolyte charge eliminates frequent recharging of solutions.
Easy to set up and maintain. No exotic flux chemicals.
Complete with flux, electrolyte chemicals, extra dryer filter and needles.
Conforms with fire code restrictions prohibiting LP, LN and compressed flammable cylinders.
Financing available through ACG Equipment Finance.
Replacement parts available. Call Cas-Ker at 1-800-487-0408 for needle tips, filters, connectors, handpiece, pressure switch, valves, gaskets, O-rings, as well as flux and electrolyte solutions.
Additional shipping charges apply. Shipping Weight 40 lbs.
See Shipping Info link at bottom of page for more details.