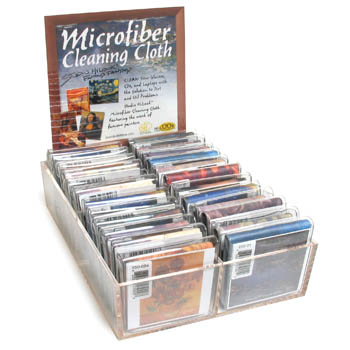 Jewelry Cleaning Cloth Art Assortment
24 piece display 6" x 8". Famous Paintings Collection.
Display Set of quality microfiber polishing cloths, featuring the work of the world's finest artists.
Why use a plain cloth when you can enjoy using one of these beautiful, artful cloths?
SKU

170.089
An artful POS display at your jewelry store, and a great way to increase add-on sales! Microfiber cleaning cloths feature the work of the world's most famous painters. Your customers can choose from 12 different works of art, including Degas, Renoir, VanGogh, Michelangelo, and daVinci. Super-fine, 100% pure microfiber is perfect for cleaning eyeglasses, jewelry, magnifiers, screens, and watches. Safe on UV and AR coated and specialty lenses. Won't scratch or leave lint. Washable and reusable. Each 6" x 8" cloth is attractively individually packaged. 24 piece set comes with a display box for your store counter or rack.
Also sold individually. Call for details.
UPS GROUND RECOMMENDED - 2 LBS. - CANNOT SHIP VIA FIRST CLASS MAIL - INQUIRE FOR AIR SHIPPING CHARGES