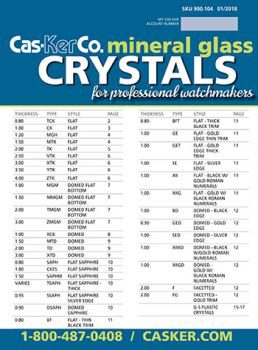 Cas-Ker Watch Crystals Catalog
Cas-Ker's Mineral Glass Watch Crystals Catalog. 18 pages of watch crystals for watchmakers. Add this catalog to your shopping cart and get a free black and white catalog by mail, or click the link below to download your copy now.
SKU

900.104
The Cas-Ker Co. Watch Crystals Catalog has flat, domed, domed flat bottom, sapphire, plain, fancy, facetted, plastic - every kind of crystal you need! Plus, there's more in our warehouse - call us if you can't find it online or in our catalog.
If you prefer, you can download a digital pdf version of our catalog. Click here to download.
Cas-Ker's Watch Crystals Catalog is available in print or as a digital download file.
Need to identify the G-S Crystal you want? Download the G-S Catalog here.
How to Use
Add our Crystals Catalog to your cart to receive a black-and-white print catalog with your order, or click the link above to download a screen-optimized digital version.
N/A