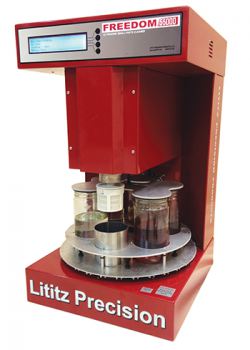 Freedom Ultrasonic Small Parts Cleaner
Lititz Precision's NEW Freedom affordable ultrasonic small parts cleaner saves you thousands of dollars!
*Item dropped shipped from factory, allow 5-7 days for order processing.
SKU

590.985
The NEW Freedom small parts cleaner features five automatic-cycling ultrasonic cleaning/rinsing stations. Priced thousands of dollars less than similar machines, the Freedom's compact jars also reduce waste, saving you money on cleaning and rinsing solutions.
Five ultrasonic cleaning or rinsing stations
Ten user-customizable programs
Powerful effective dryer
Programmable agitate and dry times
Programmable agitate strength
Audible beeper at end of cycle
4 x 40 character LCD display
Lift-off index table for easy cleaning
16" wide x 27" high x 17" deep
75 lbs.
Designed, manufactured, and assembled in the USA
Comes with these 2-1/2" non-scratch nylon cleaning baskets.
Financing available through ACG Equipment Finance.
Additional shipping charge applies.