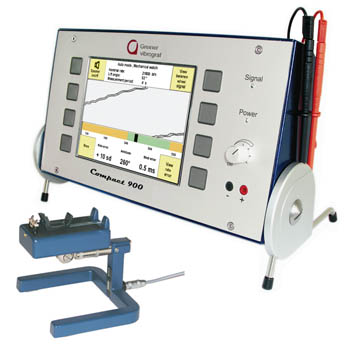 Greiner Compact 900 Watch Timing Instrument
Universal watch timing instrument for both mechanical and quartz watches. Includes the MP86M Microphone for mechanical watches. Call for competitive quotation, 1.800.487.0408. Special Order - please allow 3 to 4 weeks for delivery. Call for more details.
SKU

590.854
Test results are displayed on a color LCD display, for easy operation and individual programming, 2 control LEDís on the front panel for the indication of the watch signal and the standby or power off.
A serial interface RS232 for the connection of a printer or PC.
A speaker is integrated for controlling beat noises of a watch.
The Vibrograf Compact 900 can be operated either in automatic or in manual mode.
The following values are measured and indicated: Mechanical watches: beat frequency, out of beat value, time deviation, amplitude, escapement noise (graphic). Quartz watches: out of beat value, current consumption, resistance of the motor coil.
The results and diagrams are indicated on the display.
Financing available through ACG Equipment Finance.
Special Order - please allow 3 to 4 weeks for delivery.