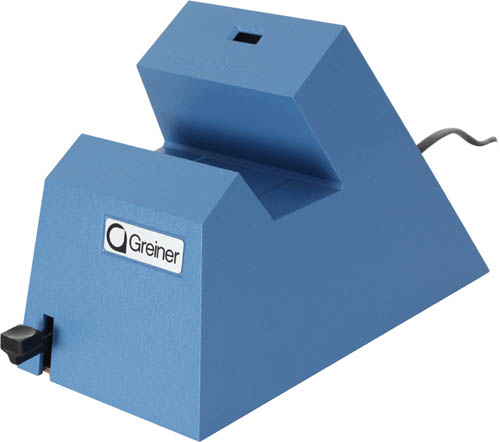 Greiner Magnomatic
Electronic demagnetizer uses an alternating magnetic field of high frequency. Will not harm delicate parts. Call for competitive quotation, 1.800.487.0408.
SKU

260.101
Greiner Vibrograf's Magnomatic is a very powerful demagnetizer suitable for mechanical watches, precision instruments and hand tools. Professional watchmakers and horologists trust Greiner's Magnomatic to safely and effectively demagnetize small, delicate watch parts and tools for watch repair.
How to Use
Insert the part to be demagnetized into the opening
Group small watch parts in a plastic pouch and insert into the opening
Press the black button
Turn the object in two planes at 90° angular displacement to remove the rest of magnetism by again activating the black push button
Red light indicates demagnetizing activation
Voltage : 230 Volt 50/60 Hz
Frequency: 50/60 Hz
Power consumption : 1 VA
Weight: 2.5 kg
Dimensions: 130 x195 x 140
Additional shipping charge applies. See cart for shipping.