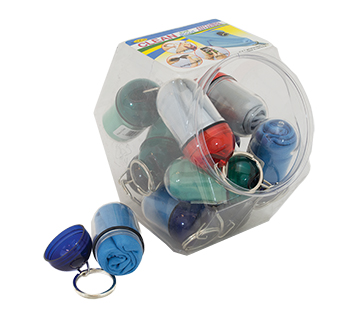 Microfiber Cloth 12-pc Display
Twelve 7" x 7" microfiber cleaning cloths inside a keychain capsule, packed in a candy-jar style display.
SKU

170.925
Makes a great point-of-sale add on at your jewelry store! Your customers will love this colorful, fun and attractive keychain - a practical and handy item for on-the-go cleaning of jewelry, watches, glasses & sunglasses, cell phones, laptop screens, and more! Top quality microfiber cloth is finished with tightly sewn edges. Offered in blue, green, or grey in blue, green, red or black water-tight keychain capsules.