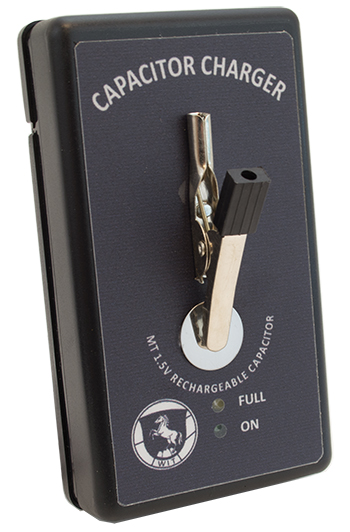 MT Capacitor Charger
Swiss made capacitor charger for MT type capacitors.
SKU

590.889
Universal Capacitor Charger for MT 1.5V capacitors. Quick and reliable! Charge capacitors commonly found in Seiko, Citizen, Miyota, Swatch Group and other movements.
Use for rechargeable capacitors only. Not for lithium or silver oxide cells.
Simply place the new or discharged battery in the crocodile jaw camp and wait 30 to 120 minutes for a full charge. Diode light indicator glows faintly during charge, and to full brightness when fully charged.
Comes with multi-voltage 110/220V adaptor. Boley #609659.
In Stock orders are shipped from our Cincinnati, OH facility with 24 hours, Monday through Friday.