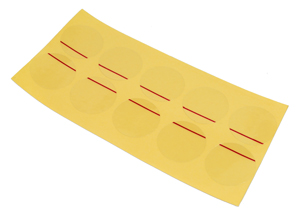 Self-Stick Labels with Red Line 31-33 mm, for Watch Case Backs
Self-stick round transparent labels with red line. Available in sizes 10mm to 34mm for watch case backs. 100 per pack.
SKU

630.031
630.031 30mm
630.032 32mm
630.033 34mm
For additional sizes, see also SKUs 630.021, 630.026, and 630.028. Prices may vary.
Most orders ship the same day your order is received, Monday through Friday, from Cincinnati, Ohio USA.