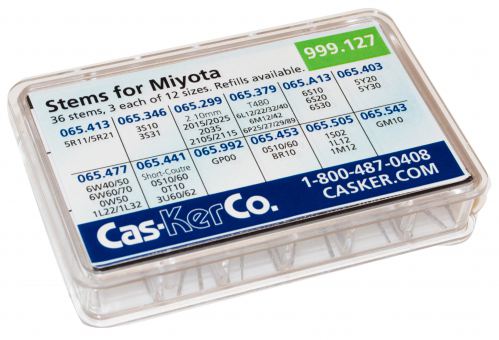 Stem Assortment for Miyota
Assortment of 36 stems for Miyota watch movements. 3 each of 12 sizes/styles. Refills available - order by 065 number.
SKU

999.127
Watchmakers material assortment of popular stems for Miyota movements. Comes in a 12-compartment plastic box, labeled with stem numbers and movement compatibility.
065.413 Fits 5R11, 5R21.
065.346 Fits 3S10, 3S31.
065.299 2.10mm, Fits 2015, 2025, 2035, 2105, 2115.
065.379 T480, Fits 6L12, 6L22, 6L32, 6L40, 6M12, 6M42, 6P25, 6P27, 6P29, 6P89.
065.A13 Fits 6S10, 6S20, 6S30.
065.403 Fits 5Y20, 5Y30.
065.477 Fits 6W40, 6W50, 6W60, 6W70, 0W50, 1L22, 1L32.
065.441 Short-Coutre, Fits 0S10, 0S60, 0T10, 3U60, 3U62.
065.992 Fits GP00.
065.453 Fits 0S10, 0S60, BR10.
065.505 Fits 1S02, 1L12, 1M12.
065.543 Fits GM10.
This item is typically IN STOCK and ready to ship.
Most orders are shipped from our facility within 24 hours, Monday through Friday.
See Shipping Info link at bottom of page for more details.