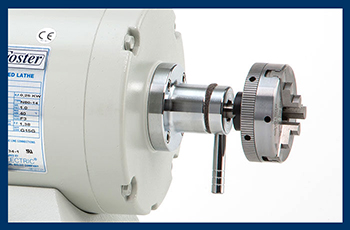 Three-Jaw Chuck Adaptor
Three-jaw chuck with adaptor for 470.065 motor. Adapts polishing lathe with jeweler's taper shaft to hold watch cases.
SKU

470.300
Mount watch case or other work piece by gripping inside or outside circumference. This chuck mounts on any polishing lathe with a standard jeweler's taper shaft, such as our product #470.065.
How to Use
INSTRUCTIONS FOR MOUNTING B672 3-JAW CHUCK ON TAPER SHAFT
If you typically clamp parts externally by inserting the part into the middle of the jaws and securing, it is recommended that you mount the chuck on the right side of the polishing lathe. If you usually clamp parts internally by placing the part on the face of the chuck and spreading the jaws until they come in contact with the internal periphery, it is best to mount the chuck on the left side of the lathe.
The chuck is designed for mounting on Ray Foster Variable Speed Polishing Lathe, item PR90, as you can control the speed to no more than the recommended 1,500 maximum RPM. If you mount on a 2-speed polishing lathe operate on low speed ONLY.
To mount the chuck, wipe the taper shaft clean. Slide the chuck onto the shaft as far as possible and seat with a soft faced mallet. A couple of firm taps should do it. Test run the lathe not to exceed 1,500 RPM maximum. Stop the lathe and make sure the chuck is secure before using.
Maximum RPM 1,500.
This item is typically IN STOCK and ready to ship.
Most orders are shipped from our facility with 24 hours, Monday through Friday.