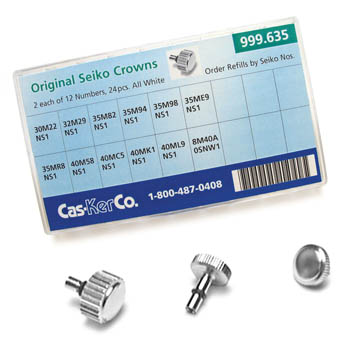 Watch Crown Assortment, Original Seiko White
Two each of 12 original Seiko Crowns, all White: 30M22NS1, 32M29NS1, 35M82NS1, 35M94NS1, 35M98NS1, 35ME9NS1, 35MR8NS1, 40M58NS1, 40MC5NS1, 40MK1NS1, 40ML9NS1 and 8M40AOSNW1.
SKU

999.635
Original Seiko Watch Crowns. 24-piece watch parts assortment of all white crowns, two each of 12 types.
Most orders ship the same day your order is received, Monday through Friday, from Cincinnati, Ohio USA.