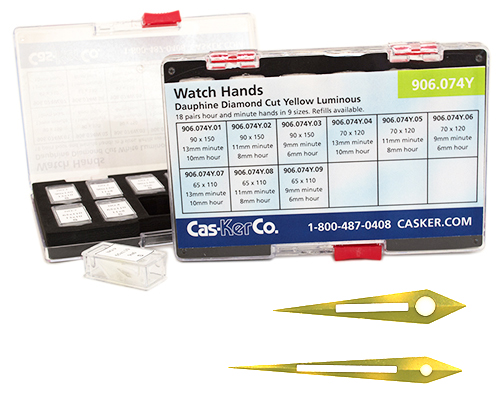 Watch Hands White Dauphine Luminous Diamond Cut Assortment
Watch Hands Assortment - Diamond Cut Dauphine with luminous strip. 18 pairs in this assortment. All white/silver color.
SKU

906.074W
Diamond Cut Dauphine watch hands have a lengthwise bevel across the face of the hand. These hands also feature a luminous rectangle centered in each hand, making hands easier to see in dark conditions. This watch hand assortment contains 18 pairs of white hour and minute hands. Yellow also available - see SKU 906.074Y. Refills available.
Hole Diameter Sizes 90 x 150, 70 x 120, and 65 x 100.
Hour and Minute Hand Lengths 9, 11, and 13 mm.
906.074.01W 90x150, 13mm, white
906.074.02W 90x150, 11mm, white
906.074.03W 90x150, 9mm, white
906.074.04W 70x120, 13mm, white
906.074.05W 70x120, 11mm, white
906.074.06W 70x120, 9mm, white
906.074.07W 65x110, 13mm, white
906.074.08W 65x110, 11mm, white
906.074.09W 65x110, 9mm, white